Just a month after Britain had declared war on Germany in September 1939, a group of young men assembled for their freshmen photograph in the quad of Hertford College. In the middle of the group was Thomas John Foster Roberts who had come up from Carmarthenshire to read Engineering. On that autumn day, his carefree smile was matched by the unruly lock of hair which had escaped from his neat side parting.
Whatever hopes Tom had for his university education were cut short by the war. In 1940, aged 19, he enlisted with the Royal Engineers 20 Field Company, a unit which worked with infantry divisions on the ground in occupied Europe. He would have worked with his fellow "sappers" – from the French to undermine – on bridging, demolition, semi-permanent defences, roadblocks and the disposal of unexploded bombs.
Although military service took him far away from Oxford and he had had barely a year as a student, Tom remembered his experiences at Hertford fondly. Whether exploring the ancient city and its buildings or whiling away happy hours on the river, the young engineer always had his camera with him.
Dom Mintoff, the future Prime Minister of Malta and the freshman pictured to the right of Tom in the 1939 photograph, recalled their shared passion for photography.
"Roberts invited me to his rooms and […] opened his treasured album of waterfalls and mountain peaks, blossoming trees in country lanes, his father's garden and mansions peopled with all the persons dearest to him. They were all stills, yet he imparted to every photo an artistic touch that evoked living reality."

Mintoff, Malta, Mediterra : My Youth, Dom Mintoff (2018)
The small square prints capture an Oxford which, in 1940, must have seemed a million miles away from the war in Europe. Leaning out from the window of his college room, Tom photographed the famous Hertford bridge – less than 20 years old at the time – and the dazzlingly new edifice of Giles Gilbert Scott's New Bodleian Library.
He also captured the luxury of leisure time which he wasn't to have as a Royal Engineer: afternoons spent punting on the Cherwell or watching the rowers from the college barges which, in the 1940s, were still moored on the Thames.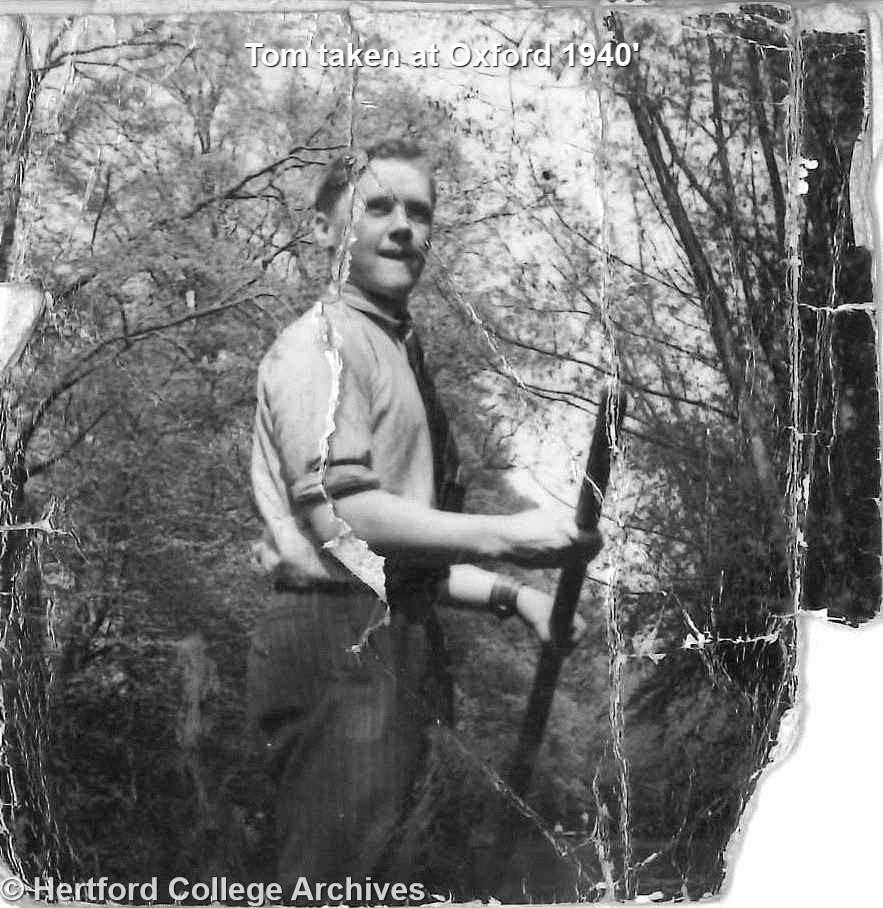 These were happy memories which Tom took with him to the battlefield. After a day of gruelling work, we can imagine that he would take out the Oxford prints and dream of some future in which he'd be able to return to Hertford and finish his studies.
Like so many others, Tom never made it home. He was killed in action during the Normandy landings on 27th June 1944, aged just 23. He was buried at the St. Manvieu War Cemetery in Cheux.
Tom's photographs of Oxford were returned to his family along with the rest of his personal possessions. The war had put an end to the "undeclared ambition" of "the gentlest and the merriest" of the 1939 freshmen – in the words of his friend Mintoff – "to see the name Roberts writ large on the silver screen as the cameraman of a film performed by famous stars."